http://www.nzherald.co.nz/animals/news/article.cfm?c_id=500834&objectid=10723578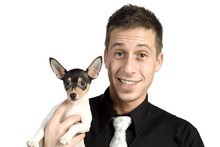 Are you the "owner" of a dog or cat? Maybe you should consider yourself a "human caregiver" instead.
A new academic publication says such vocabulary changes can help humans elevate the discourse about other species. That, in turn, can help improve our treatment of them.
The Journal of Animal Ethics recommends pets be called "companion animals" and that phrases such as "eat like a pig" be banished.
Journal co-editor Andrew Linzey insists the suggestions are not about being politically correct. He says people need to see the connection between what they think and say about animals, and how they treat them.
Some animal welfare experts say it's a worthy discussion but that language is not the only hindrance to better treatment.
- AP